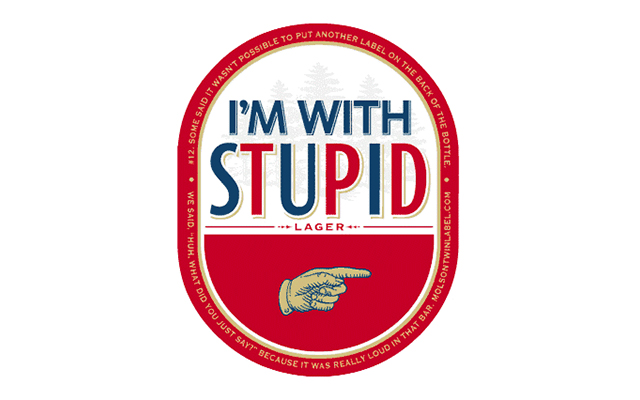 Molson sticks its message
Beer. For the youthful testosterone driven ad industry, landing a major beer account is right up their with a major automotive brand as the holy grail of accounts. Beer, babes, bros, make for fun times. Of course, being able to explain to your significant other that you're engaged in "market research" while tossing down a six-pack never hurts.
Beer has big budgets, because it's got great profit margins. And just moving the needle a little bit equals big bucks for the client. Plus, the glory of having your tagline turn into the vernacular does wonders for the ego. Budweisers "Whassup" was ranked #13 of the top 15 campaigns of the 21st century, Dos Equis: "Most Interesting Man in the World" was number #11 and how often do you hear "Dilly Dilly" these days? Beer is a chance to flex your creativity- which rarely has sound business strategy behind it.
Explain how ripping off a short film, done by a film maker no one had heard of, gets you to #13?
The Crispin Porter + Bogusky idea machine generated an idea called "Twin Label Technologies" and presented it to the client. Instead of making ads, they were proposing that Molson retool their bottling line to put a second, random label on the back of each bottle. The thought process behind this, and the way it would add value to the product is explained in this case study for the campaign:
One-sentence Topline

Let Your Molson Do the Talking.

75-word Summary

By treating beer as fashion we recognized the role of the beer label itself – to signal something positive to your peers and make yourself more attractive to members of the opposite sex. So, we created a second or "Twin" label to be used as a tool to help our young male target meet and connect with women. Molson Canadian sales are up 48% and is the fastest growing major import in the United States.
Source: Grand Prix Winning CP+B Molson Entry – Adweek
Supporting the second label with two different ad campaigns, one to the men, and one to the women, was just icing. But, that's the kind of value added creativity that brought clients coming to the shop.
Read the awards brief as a PDF.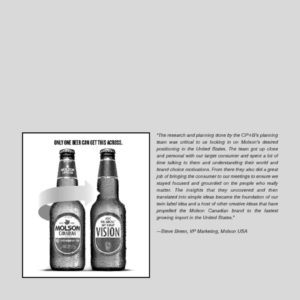 Who's your daddy?
Why this campaign is important:
Credited with bumping Molson Canadian sales up 48 percent and revenue up 40 percent. Molson
Canadian became the fastest-growing major imported beer in the United States. Molson Canadian grew 48 percent
when imports had slowed from 8 percent to 12 percent annual growth to about 2 percent last year. The Molson Canadian
brand then accounted for 43 percent of Molson's total U.S. volume.
First major beer account
Showed effectiveness of creativity- winning EFFIE awards among others.