Ari Merkin on Alex Bogusky
David Esrati thinks that Alex deserves to be in the AAF Hall of Fame. I think we all agree with you David.
In fact, it's a no brainer. Many of the best campaigns of the century were Alex's idea. Under his leadership, CP+B won as many awards as the industry could possibly throw his way. New categories were invented because of Alex. In this business, hell, in any business, people like Alex remind us that greatness never comes easy. That our ideas can matter. That good enough isn't. And in an age of click and drag marketing campaigns, we need an Alex Bogusky more than ever.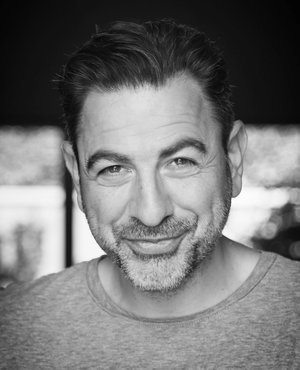 Ari Merkin
CEO Ari
20+ years in advertising.
Alex Bogusky on Ari – "As a client, it's magic to know Ari is building your brand."
When Ari was inducted into the Advertising Hall of Achievement, he dedicated his award to me. In fairness, nobody's been watching my husband's career like I have. I have witnessed the record-breaking award wins, the all-star creative lists and the countless interviews and articles.
Serious or silly, his work always manages to move me. Like his "Body Bags" campaign for 'Truth' which left an indelible mark on a generation of teens and was just named one of AdAge's 15 best of the 21st century.
The Ikea "Lamp" commercial, which took home the Cannes Grand Prix and Grand Clio. The work he did for the U.S. launches of both the Mini Cooper and Virgin Mobile. And of course, the Elf Yourself phenomenon that resurfaces every winter.
Looking at his body of work, you might think that Ari is a bit rebellious, and yes, that is partly why I married him. But I think what really drives him is his belief that every brand has a voice. And I know he won't stop working until it's been found (just ask his friends and family members). It's the reason why he was named a 40 under 40, why we've got cabinets full of awards at home that he won't let me put in storage and why clients repeatedly ask for Ari's help to solve their toughest brand problems.
It's no secret that balancing both career and home isn't always easy for my husband. Which may explain why I'm the one writing his bio."
– By Roneet Merkin